Container VPS
Maximum availability, reliable and cheap
Polishing the Servers...
#comingsoon
Features
Easy and Fast service management merged with Secure and Scalable infrastructure.
Fast Setup
Save time when deploying a new Server. Just place the order and you'll be using your own VPS server in as little as 5 minutes.
Secure Storage
Servers are equipped with high quality hardware. Confidently run your systems without the fear of losing your important files – if something happens, we are always ready to back it up and keep your servers running.
Full Root Access
You have total control over your servers. Install applications, add-ons, customize the system to fully suit your needs, and use it for personal projects, gaming, and much more.
Scalable
Upscale your Server anytime you want directly from your Client Area accorting to your needs – it's quick and seamless, so you can continue work with no downtime.
OpenVZ virtualization
OpenVZ virtualization provides secure, isolated containers. Thanks to their less resource consumption it's the perfect ratio between price and performance.
Pay for what you need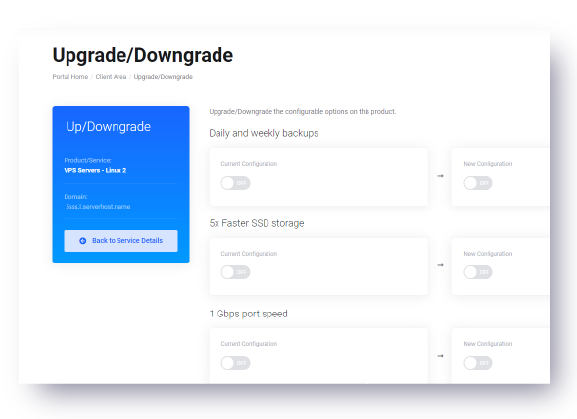 Questions and Answers
Container vs Linux VPS?
MonkeyHosting
2022-01-22T20:17:26+00:00
They both use software virtualization to partition and allocate hardware resource. The main difference is the environment in which the system starts and runs.
Linux VPS is a completely isolated software environment and allows you to independently manage the settings of the OS kernel. By using a Container VPS, the user shares the core resources of the kernel, and the system runs based on containers.
Container VPS is often used in software development, as the system allows applications to run in the same operating environment in which they were developed.